Alt-Codes Liste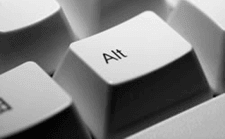 Alt Code Guides
Wenn Sie noch nicht wissen, wie Sie Symbole mit Tastatur machen → suchen Sie sich Ihr System und lesen Sie, wie.
Windows PC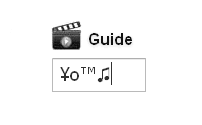 Windows Laptop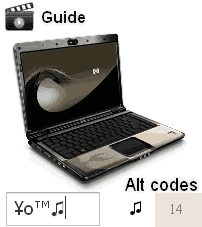 Alt Code symbols on Laptop keyboard
Guide on making symbols by using Alt codes on laptop keyboard. Article shows where are number pad keys on laptops located and describes how to type Alt codes using it. You'll know how to do Alt-key codes on a laptop after reading this.
Andere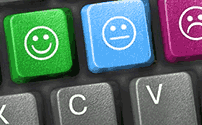 Symbole auf der Tastatur
Geben Symbole durch ihre Tastaturcodes. Enthält Informationen über Windows-Alt-Codes, Linux Symbolcodes und Standard Mac-Tools für Sonderzeichen. Setzen Sie sie in Dokumenten, auf Facebook, Instagram, Blog usw.
| | |
| --- | --- |
| 1 | ☺ |
| 2 | ☻ |
| 3 | ♥ |
| 4 | ♦ |
| 5 | ♣ |
| 6 | ♠ |
| 7 | • |
| 8 | ◘ |
| | |
| --- | --- |
| ○ | 9 |
| ◙ | 10 |
| ♂ | 11 |
| ♀ | 12 |
| ♪ | 13 |
| ♫ | 14 |
| ☼ | 15 |
| ► | 16 |
| | |
| --- | --- |
| 17 | ◄ |
| 18 | ↕ |
| 19 | ‼ |
| 20 | ¶ |
| 21 | § |
| 22 | ▬ |
| 23 | ↨ |
| 24 | ↑ |
| | |
| --- | --- |
| ↓ | 25 |
| → | 26 |
| ← | 27 |
| ∟ | 28 |
| ↔ | 29 |
| ▲ | 30 |
| ▼ | 31 |
|   | 32 |
| | |
| --- | --- |
| 17 | ◄ |
| 18 | ↕ |
| 19 | ‼ |
| 20 | ¶ |
| 21 | § |
| 22 | ▬ |
| 23 | ↨ |
| 24 | ↑ |
| | |
| --- | --- |
| ↓ | 25 |
| → | 26 |
| ← | 27 |
| ∟ | 28 |
| ↔ | 29 |
| ▲ | 30 |
| ▼ | 31 |
|   | 32 |
| | |
| --- | --- |
| 33 | A |
| 34 | " |
| 35 | # |
| 36 | $ |
| 37 | % |
| 38 | & |
| 39 | ' |
| 40 | ( |
| 41 | ) |
| 42 | * |
| 43 | + |
| 44 | , |
| 45 | - |
| 46 | . |
| 47 | / |
| 48 | 0 |
| 49 | 1 |
| 50 | 2 |
| 51 | 3 |
| 52 | 4 |
| 53 | 5 |
| 54 | 6 |
| 55 | 7 |
| 56 | 8 |
| 57 | 9 |
| 58 | : |
| 59 | ; |
| 60 | < |
| | |
| --- | --- |
| = | 61 |
| > | 62 |
| ? | 63 |
| @ | 64 |
| A | 65 |
| B | 66 |
| C | 67 |
| D | 68 |
| E | 69 |
| F | 70 |
| G | 71 |
| H | 72 |
| I | 73 |
| J | 74 |
| K | 75 |
| L | 76 |
| M | 77 |
| N | 78 |
| O | 79 |
| P | 80 |
| Q | 81 |
| R | 82 |
| S | 83 |
| T | 84 |
| U | 85 |
| V | 86 |
| W | 87 |
| X | 88 |
| | |
| --- | --- |
| 89 | Y |
| 90 | Z |
| 91 | [ |
| 92 | \ |
| 93 | ] |
| 94 | ^ |
| 95 | _ |
| 96 | ` |
| 97 | a |
| 98 | b |
| 99 | c |
| 100 | d |
| 101 | e |
| 102 | f |
| 103 | g |
| 104 | h |
| 105 | i |
| 106 | j |
| 107 | k |
| 108 | l |
| 109 | m |
| 110 | n |
| 111 | o |
| 112 | p |
| 113 | q |
| 114 | r |
| 115 | s |
| 116 | t |
| | |
| --- | --- |
| u | 117 |
| v | 118 |
| w | 119 |
| x | 120 |
| y | 121 |
| z | 122 |
| { | 123 |
| | | 124 |
| } | 125 |
| ~ | 126 |
| Δ | 127 |
| € | 0128 |
| ' | 0130 |
| ƒ | 0131 |
| " | 0132 |
| … | 0133 |
| † | 0134 |
| ‡ | 0135 |
| ˆ | 0136 |
| ‰ | 0137 |
| Š | 0138 |
| ‹ | 0139 |
| Π| 0140 |
| Ž | 0142 |
| ' | 0145 |
| | |
| --- | --- |
| 0146 | ' |
| 0147 | " |
| 0148 | " |
| 0149 | • |
| 0150 | – |
| 0151 | — |
| 0152 | ˜ |
| 0153 | ™ |
| 0154 | š |
| 0155 | › |
| 0156 | œ |
| 0158 | ž |
| 0159 | Ÿ |
| 0160 | |
| 0161 | ¡ |
| 0162 | ¢ |
| 0163 | £ |
| 0164 | ¤ |
| 0165 | ¥ |
| 0166 | ¦ |
| 0167 | § |
| 0168 | ¨ |
| 0169 | © |
| 0170 | ª |
| 0171 | « |
| 0172 | ¬ |
| 0173 | ­ |
| 0174 | ® |
| | |
| --- | --- |
| ¯ | 0175 |
| ° | 0176 |
| ± | 0177 |
| ² | 0178 |
| ³ | 0179 |
| ´ | 0180 |
| µ | 0181 |
| ¶ | 0182 |
| · | 0183 |
| ¸ | 0184 |
| ¹ | 0185 |
| º | 0186 |
| » | 0187 |
| ¼ | 0188 |
| ½ | 0189 |
| ¾ | 0190 |
| ¿ | 0191 |
| À | 0192 |
| Á | 0193 |
| Â | 0194 |
| Ã | 0195 |
| Ä | 0196 |
| Å | 0197 |
| Æ | 0198 |
| Ç | 0199 |
| È | 0200 |
| É | 0201 |
| Ê | 0202 |
| | |
| --- | --- |
| 0203 | Ë |
| 0204 | Ì |
| 0205 | Í |
| 0206 | Î |
| 0207 | Ï |
| 0208 | Ð |
| 0209 | Ñ |
| 0210 | Ò |
| 0211 | Ó |
| 0212 | Ô |
| 0213 | Õ |
| 0214 | Ö |
| 0215 | × |
| 0216 | Ø |
| 0217 | Ù |
| 0218 | Ú |
| 0219 | Û |
| 0220 | Ü |
| 0221 | Ý |
| 0222 | Þ |
| 0223 | ß |
| 0224 | à |
| 0225 | á |
| 0226 | â |
| 0227 | ã |
| 0228 | ä |
| 0229 | å |
| | |
| --- | --- |
| æ | 0230 |
| ç | 0231 |
| è | 0232 |
| é | 0233 |
| ê | 0234 |
| ë | 0235 |
| ì | 0236 |
| í | 0237 |
| î | 0238 |
| ï | 0239 |
| ð | 0240 |
| ñ | 0241 |
| ò | 0242 |
| ó | 0243 |
| ô | 0244 |
| õ | 0245 |
| ö | 0246 |
| ÷ | 0247 |
| ø | 0248 |
| ù | 0249 |
| ú | 0250 |
| û | 0251 |
| ü | 0252 |
| ý | 0253 |
| þ | 0254 |
| ÿ | 0255 |
| | |
| --- | --- |
| 128 | Ç |
| 129 | ü |
| 130 | é |
| 131 | â |
| 132 | ä |
| 133 | à |
| 134 | å |
| 135 | ç |
| 136 | ê |
| 137 | ë |
| 138 | è |
| 139 | ï |
| 140 | î |
| 141 | ì |
| 142 | Ä |
| 143 | Å |
| | |
| --- | --- |
| É | 144 |
| æ | 145 |
| Æ | 146 |
| ô | 147 |
| ö | 148 |
| ò | 149 |
| û | 150 |
| ù | 151 |
| ÿ | 152 |
| Ö | 153 |
| Ü | 154 |
| ¢ | 155 |
| £ | 156 |
| ¥ | 157 |
| ₧ | 158 |
| ƒ | 159 |
| | |
| --- | --- |
| 160 | á |
| 161 | í |
| 162 | ó |
| 163 | ú |
| 164 | ñ |
| 165 | Ñ |
| 166 | ª |
| 167 | º |
| 168 | ¿ |
| 169 | ⌐ |
| 170 | ¬ |
| 171 | ½ |
| 172 | ¼ |
| 173 | ¡ |
| 174 | « |
| 175 | » |
| | |
| --- | --- |
| ░ | 176 |
| ▒ | 177 |
| ▓ | 178 |
| │ | 179 |
| ┤ | 180 |
| ╡ | 181 |
| ╢ | 182 |
| ╖ | 183 |
| ╕ | 184 |
| ╣ | 185 |
| ║ | 186 |
| ╗ | 187 |
| ╝ | 188 |
| ╜ | 189 |
| ╛ | 190 |
| ┐ | 191 |
| | |
| --- | --- |
| 192 | └ |
| 193 | ┴ |
| 194 | ┬ |
| 195 | ├ |
| 196 | ─ |
| 197 | ┼ |
| 198 | ╞ |
| 199 | ╟ |
| 200 | ╚ |
| 201 | ╔ |
| 202 | ╩ |
| 203 | ╦ |
| 204 | ╠ |
| 205 | ═ |
| 206 | ╬ |
| 207 | ╧ |
| | |
| --- | --- |
| ╨ | 208 |
| ╤ | 209 |
| ╥ | 210 |
| ╙ | 211 |
| ╘ | 212 |
| ╒ | 213 |
| ╓ | 214 |
| ╫ | 215 |
| ╪ | 216 |
| ┘ | 217 |
| ┌ | 218 |
| █ | 219 |
| ▄ | 220 |
| ▌ | 221 |
| ▐ | 222 |
| ▀ | 223 |
| | |
| --- | --- |
| 224 | α |
| 225 | ß |
| 226 | Γ |
| 227 | π |
| 228 | Σ |
| 229 | σ |
| 230 | µ |
| 231 | τ |
| 232 | Φ |
| 233 | Θ |
| 234 | Ω |
| 235 | δ |
| 236 | ∞ |
| 237 | φ |
| 238 | ε |
| 239 | ∩ |
| | |
| --- | --- |
| ≡ | 240 |
| ± | 241 |
| ≥ | 242 |
| ≤ | 243 |
| ⌠ | 244 |
| ⌡ | 245 |
| ÷ | 246 |
| ≈ | 247 |
| ° | 248 |
| ∙ | 249 |
| · | 250 |
| √ | 251 |
| ⁿ | 252 |
| ² | 253 |
| ■ | 254 |
| | 255 |
Symbole