How to write symbols by using keyboard Alt codes
View the video above, or read steps (below) to find out how to type symbols on Personal Computers.
If you're using laptop ("notebook") - read the article about Alt codes on laptops.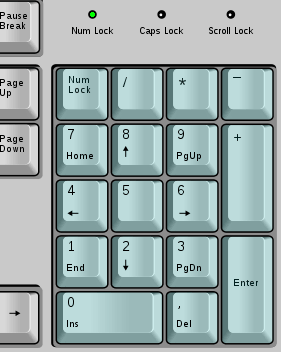 Steps
Find Alt code.

Numeric code that stands for symbol you want to make. They're all here in Alt codes list ☺♥♪ keyboard symbols.

Enable Num Lock.

Usually Num Lock is a button located on keyboard's right side (on numeric Keypad). It "unlocks" the numeric pad. When you'll enable it, the green Num Lock indicator will shine green.

Press "Alt" (button).

You have to press down and hold Alt key button on your keyboard. Try left, if it doesn't work, try the right one.

Type the Alt code in with Keypad keys.

Do this while holding Alt key pressed. The code needs to be entered on the Numeric keypad (right key pad on usual keyboards). It's a key pad on part of your keyboard. Look at the image to see how it looks. Enter there the numeric Alt code of symbol you want to make.

Release all the keys.

If you did everything right then the symbol should have been inserted after you've released the Alt button.
If it didn't work after you typed the code while holding right Alt key - try holding down the left one.
If you're really interested in alt codes - read more info on them in Short details on Alt codes.