Bold text generator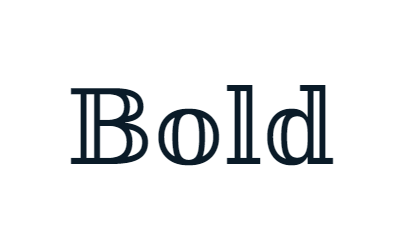 Haha, time for some bold statements!.. ☜(ˆ▿ˆc) I mean bold moves! ≧◠ᴥ◠≦✊ Now when you'll want to make an important statement, this 𝕓𝕠𝕝𝕕 bold text generator is here to save your text from drowning in the depths of the internet. Text your message and copy it from here in bold letters.
Brent, a frequent FSymbols user got bold enough to ask me to create this symbol text generator for bold letters, including double-struck characters so he wouldn't have to collect bold symbols one-by-one whenever he wants to post important statements. Originally, by the way, blackboard bold symbols like 𝕥𝕙𝕚𝕤 were designed to denote number sets in maths, if you've been to a university, you might find them looking familiar. Been there for a few most boring months of my life and I think I remember seeing these. I myself wanted to create this text-to-symbol generator a long time ago but, because there were big trouble with operating systems not supporting these characters, I hesitated up till this guy came knocking on my door. With these chars remaining far from perfect, with the characters not showing up for example, on iOS 9-, or Android 5-, still Windows support for them is now large enough for such tool to become useful, with Windows 8 and 10 having superb coverage. And things are only going to get better for it. Why? 𝔽𝕠𝕣𝕥𝕦𝕟𝕖 𝕗𝕒𝕧𝕠𝕦𝕣𝕤 𝕥𝕙𝕖 𝕓𝕠𝕝𝕕.
Supported chars are alphanumeric. A-Z, a-z, 0-9.
So now that Microsoft did their job, I did my job, it's your turn. Love it! But be clever. 𝕋𝕙𝕖 𝕓𝕠𝕝𝕕 𝕒𝕣𝕖 𝕙𝕖𝕝𝕡𝕝𝕖𝕤𝕤 𝕨𝕚𝕥𝕙𝕠𝕦𝕥 𝕔𝕝𝕖𝕧𝕖𝕣𝕟𝕖𝕤𝕤!
𝕃𝕠𝕧𝕖. 𝕋𝕙𝕖 𝕣𝕖𝕒𝕤𝕠𝕟 𝕀 𝕕𝕚𝕤𝕝𝕚𝕜𝕖 𝕥𝕙𝕒𝕥 𝕨𝕠𝕣𝕕 𝕚𝕤 𝕥𝕙𝕒𝕥 𝕚𝕥 𝕞𝕖𝕒𝕟𝕤 𝕥𝕠𝕠 𝕞𝕦𝕔𝕙 𝕗𝕠𝕣 𝕞𝕖, 𝕗𝕒𝕣 𝕞𝕠𝕣𝕖 𝕥𝕙𝕒𝕟 𝕪𝕠𝕦 𝕔𝕒𝕟 𝕦𝕟𝕕𝕖𝕣𝕤𝕥𝕒𝕟𝕕.
𝕃𝕖𝕠 𝕋𝕠𝕝𝕤𝕥𝕠𝕪
Symbols
Squares?