Cool text generator Encool ℰη¢◎◎ʟ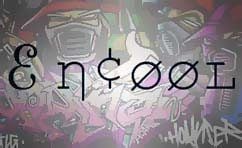 Make your firends think a bit more about what you say by using text symbols. This cool text generator uses a wide variety of symbols. The text it makes reminds my of graffiti. It looks cooler, though a bit less readable.
Encool uses text characters you can find in Cool Symbols ♡😎 and Fancy Letters Font. There are lots more characters there, so I really recommend you check those 2 out. And don't forget that you can also type it all with your keyboard. Read about keyboard symbols.
Ї αм ωяїтḯη❡ ♏ƴ ℒḯḟℯ тø ʟαυℊн @т мƴṧεʟḟ, αᾔ∂ ℑ αм ṧüḉ¢ℯℯḓїη❡▪ | Gɪᴀᴄᴏᴍᴏ Cᴀsᴀɴᴏᴠᴀ (ᴛʜᴇsᴇ ᴀʀᴇ sᴍᴀʟʟ ᴄᴀᴘɪᴛᴀʟs)
∃√ℯя¥ ґ◎αⅾ ℓεαⅾṧ ⊥ø ¢εм℮т℮я⑂▣ | Sᴀsʜᴋᴏ Pᴏʟᴏᴢʜʏɴsᴋʏ
Їм@ℊḯᾔαтḯ◎ᾔ ḯ﹩ ☤μї⊥αт☤◎η ☺ƒ ☤ηᾔ◎ṽαтїøᾔ, ʟїμї☂ℯⅾ ♭ƴ ღ◎☂ḯ♥@⊥ḯøη▪ | Iʜᴏʀ Mᴇɴsʜʏᴋᴏᴠ
Encool
Artify
Restyle