Encool tool - generate cool text with symbols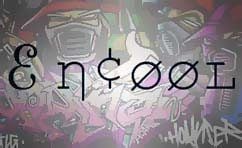 Make your firends think a bit more about what you say by using text symbols. This text generator uses the widest variety of symbols out of all tools I've got on my website, but because of this, the text doesn't look as styled to look best together. Anyway, the text it makes reminds my of graffiti. It looks just cooler, although a bit less readable. So it goes for both of those things I just talked about, that you have to pay with one thing to get more of the other.
Encool uses text characters you can find in Cool text Symbols for Facebook ツ and Foreign language Letters. There are lots more characters there, so I really recommend you check those 2 out. And don't forget that you can also type it all with your keyboard. Read about keyboard symbols.
Ї αм ωяїтḯη❡ ♏ƴ ℒḯḟℯ тø ʟαυℊн @т мƴṧεʟḟ, αᾔ∂ ℑ αм ṧüḉ¢ℯℯḓїη❡▪ | Gɪᴀᴄᴏᴍᴏ Cᴀsᴀɴᴏᴠᴀ (ᴛʜᴇsᴇ ᴀʀᴇ sᴍᴀʟʟ ᴄᴀᴘɪᴛᴀʟs)
∃√ℯя¥ ґ◎αⅾ ℓεαⅾṧ ⊥ø ¢εм℮т℮я⑂▣ | Sᴀsʜᴋᴏ Pᴏʟᴏᴢʜʏɴsᴋʏ
Їм@ℊḯᾔαтḯ◎ᾔ ḯ﹩ ☤μї⊥αт☤◎η ☺ƒ ☤ηᾔ◎ṽαтїøᾔ, ʟїμї☂ℯⅾ ♭ƴ ღ◎☂ḯ♥@⊥ḯøη▪ | Iʜᴏʀ Mᴇɴsʜʏᴋᴏᴠ
Encool
Artify
Restyle