Carty - Generate BIG text art signs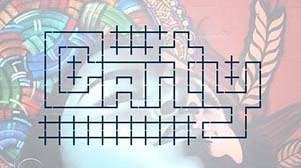 This is my favourite and self-made generator for artful text signs. I made this because I was seriously into text art. I liked it a lot. I though it would be awesome if characters would get into each other's regions, like in graffiti if I'd want to, but I wanted to also have an ability to disable this feature (disable "Closer") if I'd want to. I also found 3 sets of characters I could make this with, so I made an ability to switch between them. I also figured that in some cases I can use not-so-big signs, while I'll want bigger in others. I think it all worked out awesomely. You're the judge.
Bookmarklet available
╬

Before saving this bookmarklet you can try it right here. Select some text (but not from writing areas) on this page and click on
╬
bookmarklet.
Characters
You can type characters a-z, A-Z, 0-9, and :,.!?)(" '-+=. I thought they're all I'll ever need.
Symbols, my carty uses are: ━ ┏ ┛ ┗ ┓ ┃ ┫ ╋ ┣ ︱ ┻ ┳ , ╭ ╮ ╰ ╯ ╱ and ═ ╔ ╝ ╚ ╗ ║ ╣ ╬ ╠ ─ ╩ ╦ . You can use them to make your own different art signs and text pictures.
Encool
Style