Infinity symbol ∞
Infinity ∞ is a maths text symbol for an infinite number that people had been texting from the times when ASCII encoding was developed. And you can type it right from your keyboard. I'll show you how to do it by using different techniques depending on your Operating System and tastes.
What infinity means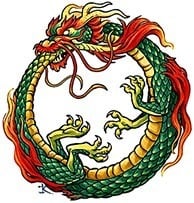 Infinity symbol created by John Wallis in 1655 refers to things without any limit. Usually is used in mathematics or physics to express that some things have no limit. For example, set of natural numbers has no limit and could be expressed by infinity ∞ sign. Infinity is designated as the ∞ symbol because it was imagined as a special variation of ouroborus snake - an ancient symbol depicting a serpent or dragon biting its own tail.
How to input infinity symbol
Choose your system to find out.
Windows
Mac
Linux
HTML code