Character map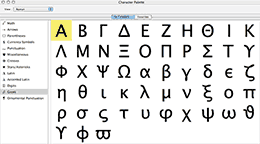 Character maps are programs with on-screen layout of symbols. You can use them to type all possible text symbols, and useful special characters, like letters foreign languages, or maths signs. For example, on the image to your right you can see what Mac's Character Palette looks like. Character maps are the best utilities for typing symbols you can find, and if you use Windows, or Mac then you already have them for sure. So don't miss your chance and find out more about them!
Your platform
If you've got some non-mobile system not listed in here, but that runs a Java RE, please, read about Java character map.
How to type symbols on keyboard?
Text Characters
Small "character map" like collections of some of the most popular text symbols.